Aggressive Public Relations Campaign Changes Lives and 
Elevates Impact for Major Nonprofit
The Challenge
Ada S. McKinley Community Services has a rich history serving Chicago's South Side neighborhoods with programs to empower, educate and employ people. It has a 102-year track record of changing lives and strengthening communities. Yet, most Chicagoans had no knowledge of its impact serving hundreds of thousands of men, women and children since being founded by human services pioneer Ada Sophia McKinley in 1919. 
In September 2020, CEO Jamal Malone believed it was time to invest in an aggressive public relations campaign to shine a bright light on how the nonprofit helps people become self-sufficient and economically strong. With programs focused on education and child development, behavioral health and clinical services and unemployment and community support, McKinley Community Services sought a team of expert storytellers and media connectors to create compelling news angles and educate reporters about the organization's life-changing work. 
Collectively, the organization believed Ada's next century of growth required greater media visibility to attract volunteers, philanthropists, and Chicago movers and shakers. An aggressive public relations campaign would help achieve Ada S. McKinley's strategic goals.
Why Michelle Damico Communications?
Our team was selected as McKinley Community Services' PR partner based on over a decade of success as a Chicago PR firm making powerful headlines for local nonprofits and businesses. Our deep media relationships and our experience identifying and creating newsworthy story angles caught the CEO's attention. And our pledge of superior customer service was soon on display with the entire staff.
Our Thorough Approach
We developed a customized public relations strategy that focused on how Ada S. McKinley helps people, especially during the COVID-19 pandemic. Our planning sessions included:
Asking the questions journalists would ask to get McKinley's real-life client stories

Identifying and researching topics that reporters cover, including news about COVID impact on foster families

Writing a

press release

about the shortage of foster parents during the COVID pandemic

Introducing reporters to the CEO and other experts via email, phone calls, and social media engagement
Our PR Impact Changed Lives for Adults Considering Fostering a Child
That's right. During the holiday giving season, we helped change the lives of children needing foster homes and adults wishing to become foster parents. That campaign alone inspired 65 adults — more than 10 times the average during a normal year — to inquire about taking a class to become a foster parent. As of this writing, one of those adults completed the training and is waiting to welcome a foster child into their newly certified foster home. Also, thanks to that campaign and others, we secured 66 news stories for Ada S. McKinley during the first six months of our PR engagement. 
Our News Making Process
While many holiday giving campaigns ask for donations, our PR effort asked people to give of their hearts and homes.
Research and Information Gathering
We began by gathering information for a press release. Simultaneously, we  researched the  journalists and outlets that reported on issues related to children and families during the pandemic.
We wrote  a press release that focused on how the pandemic worsened the shortage of foster parents who are in great demand to serve abused and neglected children.  Because of fears about the spread of COVID, many families were reluctant to open their homes to a child in need. We distributed our news release on a national newswire.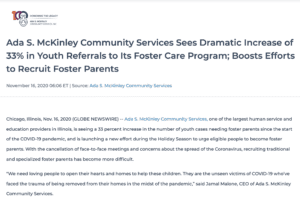 Preparing for Media Interviews
We asked all the questions reporters might ask, so our clients were prepared with the facts, anecdotes, and any other information that could be requested during a media interview.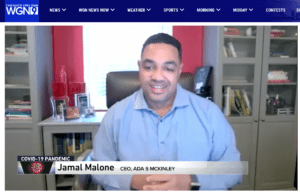 Aggressive Media Relations
Our team has years of experience working with reporters. Our strong media relationships already exist. Reporters welcome our calls and emails, because they have confidence that our press releases are newsworthy. So we immediately captured attention of national network reporters at CBS, Black News Channel, as well as local media at the Chicago Defender, Newsradio,  Chicago Public Radio,  WGN TV News and others.
PR Campaign Results
Our client was surprised and impressed by the power of a strategic public relations campaign launched during the holidays, when they typically competed with other nonprofits trying to secure media attention. Our PR results included:
Record Engagement — 65 Adults Inquired

and/or Registered to Become Foster Parents, 10 times more engagement, compared to previous year.

New Visitors to Foster Care Program page

—  15,000 more visitors, 7-times more compared to a typical year.

Record News Placements — 12 Foster Care News Stories

in Local and National Media.

New Global Audience

— Our press release was shared by reporters in 54 newsrooms and viewed on websites serving a potential global audience of  197 million.
CEO Praises Our Strategic PR Program during the Holiday Giving Season
After working with our PR team for just four months, the CEO offered glowing praise of our work:
"I am extremely happy to have Damico Communications as a PR Partner. Michelle's team landed us more stories than we ever dreamed possible. Her news making ideas never stop and her team tirelessly works with reporters to spotlight the hard work of our staff. Our PR campaign has made a big impact for Ada S. McKinley Community Services."
Jamal Malone