We believe in the value of "earned media." Your expertise "earns" you the chance to be quoted in the news. Unlike advertising, (paid media),  earned media is independent, third-party validation, proving to audiences you're an expert. It's one of the most effective ways to attract attention and win customers!
Learn More
Meet Michelle Damico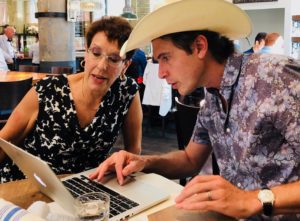 Since 2010, we've gotten clients into thousands of news stories, blogs, podcasts, broadcast and online news sites.
It's not just media connections that matter. Clients often lack the skills to identify what makes them newsworthy. So Michelle digs deep to learn about their business and their value to customers. She also identifies news trends and ways to insert clients' voices into the media conversation. As a result, our clients say they've made headlines they've never dreamed of, thanks to our news judgement and guidance.
 B2B Public Relations for clients in:
Private Equity
Logistics & Supply Chain
Healthcare Technology
e-Commerce
Construction
Real Estate
B2C Public Relations for clients in:
Wealth Management
Restaurants & hospitality
Health & wellness
Non-profits
Government
When it comes to PR, Michelle has done it all:  She's led agency and government communications. She's worked on political campaigns under the media microscope. She served governors, mayors' and startup CEOs.  She loves to have fun. And she's no-nonsense about managing clients' time.  Michelle knows how to 'manage up' because CEOs and CMOs need her direction and advice to generate results. And that's why she gets such rave reviews!
Want to Make News for Your Business?
Let's talk. Even if you don't know where to start.