The Michelle Damico Communications team builds your company's credibility by landing you great interviews and headlines in traditional and digital media outlets. By making news, you establish trust with your customers, employees, investors and stakeholders. And once you make headlines,  that valuable third-party validation generates word-of-mouth and supports marketing and sales.
Learn More
Meet Michelle Damico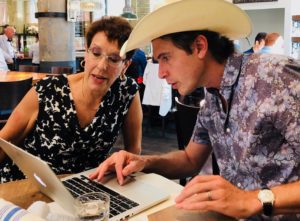 Michelle is an award-winning PR pro and a former journalist with a great nose for news.  With 15  years of experience as a Chicago broadcast reporter, her news judgement will help your company make news by finding the best outlets to take your news and run with it.
Since 2010, Michelle Damico Communications has helped  clients appear in thousands of news stories and hundred of blogs, podcasts, online news sites. Her clients also appear in top-tier national newspapers, as well as network and local TV and radio.
She's provided B2B PR consulting for clients in:
Logistics
Turnaround Consulting
Business Restructuring
Private Equity
Real Estate
Technology
And she's helped B2C clients in:
Wealth Management
Restaurants & hospitality
Health & wellness
Non-profits
As a senior-level, Public Relations Consultant who's led agency and government communications teams, Michelle's creative, honest and fun to work with. Plus, she's no-nonsense when it comes to managing clients' time.  Michelle knows time is stretched for CEOs and CMOs, so she works efficiently to ease their workloads.  Wonder why clients give Michelle rave reviews? Let us introduce you to a few.
Having a PR Pro at Your Side is Invaluable!
Partnering with a team of public relations advisors is about more than boosting your brand's visibility. PR is a form of strategic communication that enables businesses to target distinct audiences with a compelling message that stresses value and leadership to potential customers. Plus, if your business ever faces difficult, negative or unexpected attention a skilled Crisis Communications expert can help you address and turn around challenging situations.
We've worked with clients who regularly faced intense public scrutiny, so we're seasoned at avoiding and/or confronting the communications missteps that reflect poorly on your company and brand.
Is Your Brand Telling the Right Story?
Find Out How We Can Help
A Passion for Public Relations
After 20+ Years in PR and Dozens of Happy Clients, We Love What We Do!
Our Passionate PR Blog is Bursting With Newsmaking Tips to Start Our Conversation.