It's the end of the school year! 
While students say goodbye to teachers and friends, sign yearbooks, and plan for summer, local nonprofits are wrapping up another year and celebrating achievements.
It's a time for many education nonprofits to showcase their successes. If your nonprofit has an end-of-year event with staff, students and parents, this is your season to shine by elevating your media profile through stories in local media outlets.
We did just that with our education nonprofit client, Communities In Schools of Chicago, whose single mission is to ensure that every Chicago Public School student graduates high school and is prepared for success in life.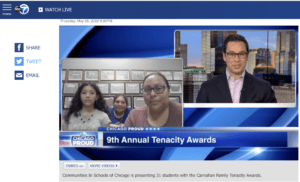 Graduation  can be a big hurdle for many CPS students who face obstacles of poverty, violence, or economic hardships simply because of their zip-code. CIS of Chicage has created an unusual end-of-year program that celebrates 31 CPS students with their annual Tenacity Award. Thanks to their grit and perseverance, these students are running across the finish line to high school, college or the next grade. 
The Tenacity Award is a marquee event for CIS of Chicago, and we are proud to have secured this heart-warming news story on Chicago's number-one-rated TV station, ABC7.  This interview with Rob Elgas captured everything that's great about the staff and program at Communities In Schools. They have mental health and education experts embedded in 31 schools to provide a wide array of supports to ensure students achieve academic success. In fact, 95% of their students graduate, so reporters frequently seek out CIS experts for interviews.
Does your nonprofit have a unique program that showcases your impact every single year? If so, why not launch a PR program and promote it to local media? 
Five PR Tips to Elevate Your Nonprofit's Impact
Interview your team! Ask the best questions so you have powerful messages needed to write a press release that showcases your most powerful success stories. 
Make visuals a priority. While gathering  information for your news release, find your best visuals like school-year photos and videos to include that support your narrative and bring the story to life. If you don't have many photos or videos, there's still time to capture them! 
Do precise media outreach. Send your news release to the reporters, producers and editors who are looking for positive stories.  So many Chicago outlets want to focus on feel-good reports that counter the steady stream of bad news that fills the headlines and forces many viewers to tune out.
Perfect your pitch. When sending your news in an email, write a short message that explains why the story is important and unique, and stress how you can make life easier by providing the reporter or producer with everything he'll  need for a great interview. 
Coach the team for interviews.  We spent a few hours on details and mock interviews making sure all three people in this story were prepared and confident to share their compelling and unique stories. And we suggested shorter and punchier messages that viewers could relate to.
When you watch the full report, see if you can identify the impact messages being spoken about Communities In Schools of Chicago.
Testimonials like these, from students, parents and the media are extremely valuable to advancing a nonprofit's mission. 
Want to learn how news coverage like this can help convert your prospects into donors or partners? 
I'm always happy to have a discovery call and offer some initial advice, so contact me to schedule a time to talk!